Sorry I've been a bit absent lately! We're having too much funny with Shy! (although her favorite hideout right now is under my dresser in the bedroom!
Two more tips on ways to use cache with Bridge. First of all, not sure if you guys saw the comment Tim Halberg left on my last post on cache taking up disk space. He basically outlined another way to take care of the problem. Instead of having Bridge save all the cache files in one folder it saves each of them inside of the folder that you cached. Here's his comment.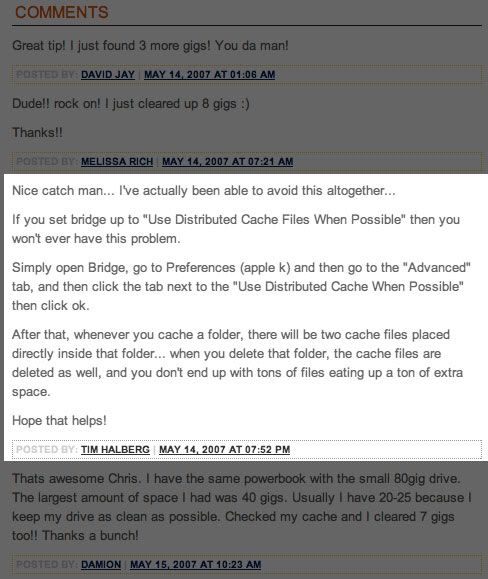 Here's the option he's talking about under the Bridge Preferences:
Also, one other quick tip as far as caching folders. Save your images inside a seperate folder within your main folder so you can pre-cache your images. Here's what I mean.
The way we have our folders set up is to have a main folder for the couple and then inside that folder we have another folder called "RAW" which is where we save our files. When you have your folder system set up that way you can have Bridge pre-cache your files while your doing something else. To do that in Bridge open up the folder with the couple's name so that all is showing is your "RAW" folder. Then go to Tools-->Cache-->Build Cache for Subfolders. Bridge will then process all your thumbnails (much faster than it would if you just opened up the folder since it doesn't need to actually use the processor to display the images). In the meantime, you can go grab lunch or do something else while it's processing and then when it's finished and you open up the folder all the files will be ready to go. By the way, this will work for JPEGs as well if you're not a RAW shooter.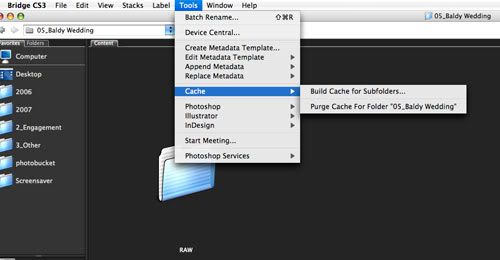 Let me know if you have any questions, and thanks so much to Tim for sharing that tip!