We've talked about it for about two years.
We've tossed around ideas, tossed them out, and started back from scratch.
And finally, we created a new vision.
That's why we're so excited to be announcing
our first-ever workshop for photographers!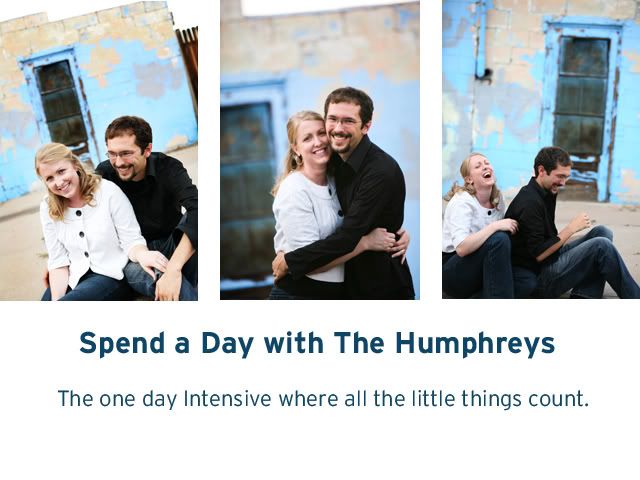 Chris and I both absolutely love teaching and speaking, and we've wanted to develop a workshop for quite a while now.   One of the things we knew from the beginning was that we wanted to create a workshop that was a totally individualized experience where we could really focus on some of the seemingly small details that are involved in running a successful business.  Things that aren't always talked about, but that really make a difference.
The vision for our workshop came from an excerpt we found in Michael Gerber's book –
The E-Myth Revisited
– one of our favorite business books of all time.
.
"Great business people know that a business doesn't miss the mark by failing to achieve greatness in some lofty principled way, but in the stuff that goes on in every nook and cranny of the business.  And so the great ones I have known seem to possess an intuitive understanding that the only way to reach something higher is to focus their attention on the multitude of seemingly insignificant, unimportant, and boring things that make up every business."
Because we know that the small details in execution matter, we wanted to create a
one-on-workshop
where we could really delve into an individual photographers' business with them and at the end of the day, leave them with practical, actionable things that they could do.  Whether it's working on your pricing, figuring out how to systematize your workflow so your clients all get a consistent experience, or working on particular shooting issues,, we want to address these weaker areas you're struggling with.
You can check out our brand new workshop site here!
These last two months of 2009 are a great opportunity to get together with us to tighten up any areas of your business before the new year starts, so email us today about getting  your date set for these last two months of 2009!
For the complete info, please
visit our new website for Spend a Day with The Humphreys!