As I've said before, and as all my close friends know, I'm kind of a news junkie. CNN is set as my browser homepage, and I love reading up on what's happening in the news, politics, etc etc. However, I'm totally sadenned by the way the news media has covered the terrible events at Virginia Tech.
They've only rewarded disgusting and vile behavior with unparalled attention and instructed anyone who feels neglected, unheard, and misunderstood on how to get the focus of the entire world. I can only imagine how many people were inspired, now educated as to how to get their voice heard. Indeed, the shooter's video has gotten more views than any other video that has EVER been released on youTube.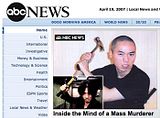 It's interesting how this incident has shown how easy it is to get the attention of the world and make big, bold headlines by doing evil. But think about just how much harder it would be to make the headlines by doing something good. What good deed could I do that would get the attention that the Virginia Tech shooter has gotten by doing evil?
Tim Sanders did a great post on this on his blog. It's well worth the read. One super interesting thing he points out is how NBC put their logo on the video so no matter what network showed it, NBC is advertising through it. It really bums me out that NBC would consider the Viginia Tech tragedy to be a marketing opportunity. In all honesty, my opinion of all these media corporations who have elevated this guy has gone down because of this. As Sander's said, "We shouldn't make him prominent, use his name or display his picture. He's not worth it. He accomplished nothing."
I really hope we as a country (with the assistance of the media) can start to take the attention off the manic views of the killer and put more focus on assisting and praying for the healing of the community at Viginia Tech and their families.